Image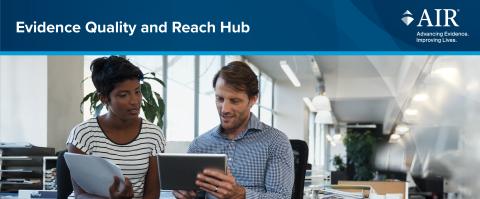 The Evidence Quality and Reach (EQR) Hub offers learning events, services, and resources related to research methods; knowledge translation; and diversity, equity, and inclusion to current and aspiring DRK-12 grantees. The Hub develops and implements virtual webinars and workshops, convenes communities of practice, and engages in individualized consultations with DRK-12 projects. 
Upcoming learning events will be listed below, as well as archived videos and materials. To stay up to date on forthcoming virtual learning events, please send your preferred email to the EQR Hub Director, Sonica Dhillon, at gdhillon@air.org. EQR Hub events and resources will also be shared in the CADRE monthly newsletter.
Upcoming Events
Develop a Conceptual Framework Centered on DEI (Community of Practice) |  January - March 2023
The EQR Hub will offer a free, three-session Community of Practice (CoP) focused on integrating diversity, equity, and inclusion (DEI) into conceptual frameworks for research. As part of the CoP experience, participants will receive direct instruction and feedback from experts and develop their own conceptual framework.
The CoP meetings will be held on January 25, 2023 from 3-4:30 EST; February 15, 2023 from 3-4:30 EST; and March 8, 2023 from 3-4:30 EST. Participants are expected to attend all three sessions and will gain access to an interactive learning platform and resources for developing DEI-centered conceptual frameworks.
To register for this CoP, please complete an interest form by December 9, 2022. 
Archived Events
Workshop: Cultural and Linguistic Competence in Survey Design & Methodology | October 31 - November 2, 2022
The Value of Cultural and Linguistic Competence in Research | September 2022
Community of Practice:  Designing Communication and Engagement Plans | July/August 2022
How to Create a High-Quality Engagement Plan to Disseminate STEM Research and Innovations | June 9, 2022
Introduction to the EQR Hub | February 15, 2022
Research methods webinars hosted by AIR and funded by a prior NSF grant:
An Introduction to Systematic Literature Reviews | September 3, 2020
An Introduction to Meta-Analytic Techniques | September 28, 2020 
Social Network Analysis - An Introduction | March 26, 2020
Applying Social Network Analysis to STEM Education Research | April 20, 2020
Measuring Program Implementation | October 1, 2019
Developing a Program Implementation Measurement Framework | October 10, 2019
Evidence Standards for Evaluating Math and Science Programs | March 20, 2019
---
The American Institutes for Research  was awarded the Evidence Quality and Reach Hub by the National Science Foundation Discovery Research PreK–12 program in July 2021. To learn more, visit the EQR Hub project page.