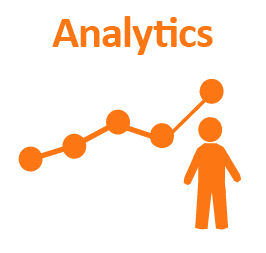 Data, data, data. Determine how well your website, Facebook page, tweets, video, or email is performing and compare posts, content, and views over time.
The Center for Parent Information & Resources developed a toolkit on How to Evaluate Dissemination that may also have helpful information.
Email Analytics
Email Analytics: The 6 Email Marketing Metrics & KPIs You Should Be Tracking
Constant Contact, MailChimp, and similar email services collect data you can access to track how your email campaigns have performed. Hubspot describes six metrics you should be paying attention to (at a minimum).
Email Marketing Benchmarks
Wondering how you're doing in comparison to others? See MailChimp's average industry email stats.
Google Analytics
Google Analytics
Get started with Google Analytics by signing up on this site.
Analytics Help
Google provides resources to help you learn how to use Google Analytics successfully.
20 Must-Know Tips & Tricks to Master Google Analytics Data
This Hongkiat article tells you what to look for in your data and explains terms used in Google Analytics.
How to Get the Most from Google Analytics - Tips, Tricks & Best Practices
Ten easy Google Analytics tips and tricks, starting with "never lose focus of what you are measuring and why."
Measuring Social Media Impact
Blog: Utilizing Social Media Analytics to Demonstrate Program Impact
This EvaluATE blog shares advice on socia media analysis to measure program impact.
Know What's Working on Social Media: 19 Free Social Media Analytics Tools
Monitor your social media activity by using one of these analytical tools, compiled by Buffer Social.
Facebook Insights
Learn how to get started and use Facebook's Insights, which tracks post metrics and user engagement.
Facebook Insights: Distinguishing Reach v. Engagement
What is reach versus engagement? This article explains the differences.
Twitter Analytics
Twitter Analytics tracks tweet impressions, mentions, profile visits, and more. 
Video Analytics
YouTube Analytics Basics
YouTube Help explains how to use YouTube Analytics.
10 Powerful YouTube Analytics to Help You Grow Your Channel
This Oberlo blog explains ten ways to dive into your YouTube Analytics. 
Access to Vimeo stats depends on your Vimeo plan.
---
See also the Social Media Outreach section of our Dissemination Toolkit to learn how to set up a Facebook page, Twitter presence, YouTube channel, and more.