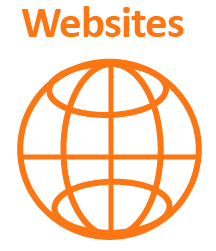 Websites are a great way to share resources and information about your project. However, they can be expensive to make and maintain. Below are some tips for deciding whether a website is right for your project, determing which website content management system best fits your needs, and bringing visitors to your site.
Deciding Whether a Website is Right for Your Project
The first step is to determine what purpose a project website would have. Create an outline of what you would include on your website.
Then ask yourself if a Facebook page, a webpage on your organization's website, a blog, or updating your project page on CADRE would fulfill your project's needs. Remember that a website is useless without visitors, so having a webpage on a site that people are already on can be helpful. 
Deciding Which Website Content Management System (CMS) is Right for Your Project
If your outline includes complex functions (filtering resources, for example), it is best to hire a professional website builder.
If your website is basic, and you want to build a site yourself, this How to Make a Website guide walks you through the steps of (1) choosing a website building platform, (2) choosing a domain name (www.) and host, and (3) setting up, designing, and tweaking your website.
Tips for Bringing Visitors to Your Site
Once your website has launched, use social media, emails, and posts on other websites to encourage people to visit your site. 
Set up Google Analytics (see the Analytics section of this toolkit) to monitor how many visitors your site has attracted, what content is most popular, and more.
Maintain and update your content regularly! And share this updated content via social media, etc.
Add a "Share Button" to your website so that the content can be easily posted to social media sites by website visitors. The more widely your content is shared, the more visitors your site will attract.
Think about Search Engine Optimization (SEO). Here is a beginner's guide.