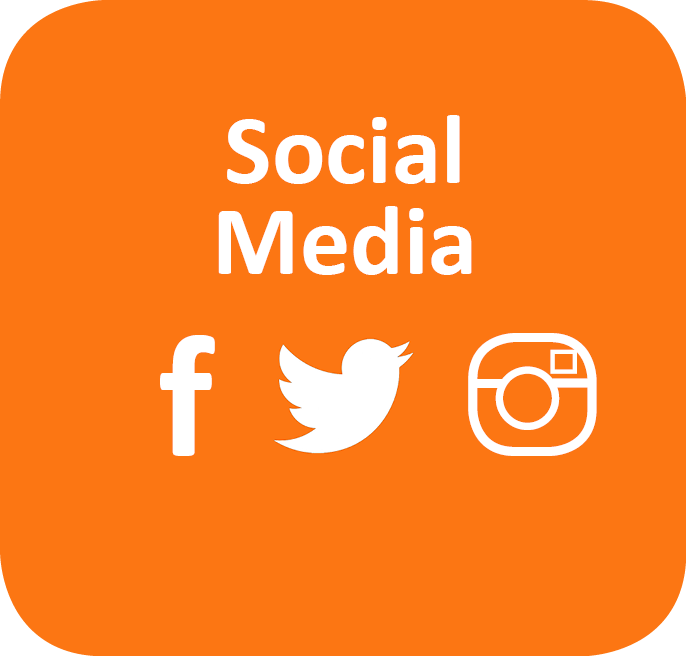 JUST GETTING STARTED?
First, ask yourself if social media is right for your project. To use social media effectively, you need to build a group of followers, and the best way to build a following is by posting relevant information regularly. As an exercise, generate a list of 14 resources that would be appropriate to post. See how long that took. If you had trouble coming up with ideas, then maybe social media is not the right approach for your project dissemination.
If social media is a good fit, then ask yourself what platform(s) would work best for you. Which Social Media Channels Should I Use for My Business? gives some great tips and an overview of some of the more popular platforms. This compilation of social media statistics, Global Social Media Research Summary 2016, can also be helpful since it provides stats on the numbers of people on Facebook, Twitter, Instagram, etc., and shows active use of social networks broken down by age group. CAISE also wrote a blog on Science Communication on Social Media with examples of how others in the field are tweeting, creating podcasts, and using Instagram and YouTube.
Wondering how educators are using social media? Edutopia has gathered guides, resources and ideas for teachers in this article. 
SOCIAL MEDIA PLATFORM HOW-TOS
Facebook
What's Really the Difference between Facebook Pages, Groups, and Profiles?
What is the difference between a Facebook Page, Group, and Profile? See this article to find out. For an example of a Facebook page, visit the CADRE Facebook page.
How to Create a Facebook Page
There are many sites that are helpful when creating a Facebook page. We picked this one because (a) it has screen grabs, (b) it seems up to date, and (c) if you continue to scroll down, you will also find some helpful tips for more advanced Facebook learners, such as how to change the URL of your Facebook page.
How to Post from Facebook to Twitter
If you're more Facebook-focused for your project and want your Facebook posts to be tweeted, Facebook had the info to get you started.
How to Create Custom Tabs for Your Facebook Business Page
Learn how to create custom tabs on your Facebook business or community page to showcase custom content alongside the default tabs (e.g., "About" and "Likes").
Hoot.me
Built for students by students, Hoot.Me is a Facebook application that allows you see what your classmates are working on and collaborate inside of Facebook.
Google+
How to Get Started with Google+
This Google help page will get you started with Google+, a social network that connects with all of Google's other services (e.g., Gmail, YouTube).
Instagram
Instagram
Instagram is a popular visual social media tool. Watch this video on how to get started using Instagram.
LinkedIn
LinkedIn
LinkedIn is a network of professional connections. It also has groups that you can join based on your interests. Interested in starting your own group? Get started with this LinkedIn Help page: Creating a Group. This LinkedIn Groups 101 guide gives tips on building an engaged community on LinkedIn.
Pinterest
Pinterest
Pinterest is a collecting and sharing social media tool. Learn more about how to get started and use Pinterest.
Reddit
Reddit
Reddit is essentially a message board. Like Twitter, the information is real-time, but unlike Twitter, the Reddit community votes on the content so that items of value or interest end up on the top. See Mashable's Reddit: A Beginner's Guide, or Reddit's Beginner's Guide and accompanying video.
Snapchat
Snapchat
In 2015, Snapchat was the fastest growing social network. See this article to learn how to use Snapchat to promote your work.
Tumblr
Tumblr 
Tumblr is a micro-blogging platform that churns out millions of posts on a daily basis. Learn how to get started!
Twitter
Getting Started with Twitter
Learn about the basics on this Twitter help page.
Hashtagify
Use hashtagify to get data on hashtags you use or are thinking about using.
How to Post from Twitter to Facebook
Don't want to post something twice? This describes how to link your Twitter feed to your Facebook profile.
Recruiting Research Participants via Twitter (or Social Media)
This AEA365 blog gives tips on how to recruit research participants via Twitter and social media. The authors of the blog are researchers on the NSF-funded project, Twitter and Informal Science Learning and Engagement (TwISLE).
Storify
Storify is a great tool for capturing posts and tweets in a purposeful and digestible way. Example: This CADRE Storify captures tweets from an NSF STEM Smart workshop on early childhood learning.
The Art of Live-Tweeting
Christopher Long, a professor at Michigan State University, gives advice on live-tweeting at academic conferences.
YouTube
How to Set Up a YouTube Channel
In true YouTube fashion, this describes how to set up your own YouTube Channel … via video. Get started here.
SOCIAL MEDIA TIPS
3 Tools for Improving Your Social Media Strategy
These free tools help you monitor your social media and find pertinent posts.
Hootsuite
HootSuite is a free program that allows you to manage multiple social media profiles (e.g., Facebook, Twitter) in one dashboard. You can plan out and schedule when your tweets and posts should go out.
Mashable
This digital media website will keep you up to date on the latest happenings in social media.
Social Media Examiner
From tips to product reviews, Social Media Examiner puts out new and useful social media information multiple times per week. If your project is using social media or thinking about branding, this site is definitely worth visiting.
The Social Conference Directory
Want to find out about obscure conferences? Lanyrd is a "wiki" of conferences happening around the world. You can add conferences you're attending, see what conferences other people are attending, or just browse conferences by topic.
Klout
Klout measures sites' impact across several social networks and shows users how they impact the people connected to them.
EDUCATION-SPECIFIC SOCIAL MEDIA PLATFORMS
Discovery Education Network
This global community of educators of more than 100,000 members connects teachers both online and in-person. Discovery Educators have exclusive access to a wide range of resources, professional development activities, networking opportunities, exclusive Discovery Educator events, and more.
Edmodo
With more than 34 million users, Edmodo offers a free and secure social learning network for teachers and students.
Edthena
Edthena allows you to upload recorded videos and receive feedback, while also recording goals for next steps.
EdWeb
EdWeb is a professional social network for the education community that is designed to connect colleagues, create learning communities, share and collaborate, and mentor new teachers.
Teaching Channel
Teaching Channel's is an online community  with the mission of creating an environment "where teachers can watch, share, and learn diverse techniques to help every student grow."
Short Description:
It seems like there are new tech and social media tools coming out every day. So what's out there? And how can these tools be used to enhance your work?
Project or Group Affiliation: