Dear Colleagues,
We are looking forward to learning more about recent DRK-12 innovations and impacts at the
2020 DRK-12 PI Meeting
. If you lead an active project, don't forget to check your email for an invitation and the
Call for Proposals
. Last week, we opened registration to second project members on a first-come, first-served basis.
In federal news, NSF announced 
2026 Idea Machine winners
, including a Top 14 entry that focuses on K-12 education, and the White House released its 
FY2021 budget
 with a focus on industries of the future and a proposed 2% increase to the EHR budget.
Sincerely,
---
Spotlight on English Language Learners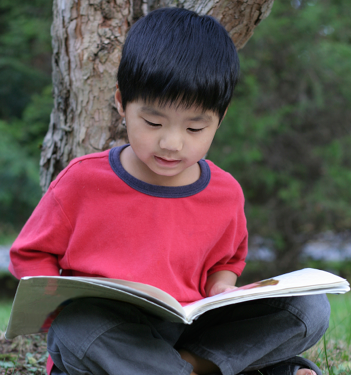 This Spotlight features DRK-12-funded projects that are researching and developing approaches to improving STEM learning for students 
classified as English language learners (ELLs) or English learners (ELs)
. In addition to sharing their current research, projects featured in this Spotlight share their advice about how we, as a community, might better serve English learners.
There are many terms used to describe students whose first language is not English and each term has subtle differences in meaning. This Spotlight title, English Language Learners, is the term most used in schools. Some believe this term perpetuates inequalities by not accounting for home languages and cultural understandings; instead they prefer the terms emerging bi- and multilingual learners, which recognize the language assets of these students.
Dr. Guillermo Solano-Flores
, professor at Stanford University and former DRK-12 PI, shares lessons learned from his NSF-funded work around the effective teaching and assessment of English language learners in our
DRK-12 Community Voices
blog.
In this Spotlight...
---
DRK-12 Publications, Presentations, Products, and Websites
Thank you to the current awardees who filled out
our survey
on recent publications, upcoming presentations, and project websites. Congratulations on all you have accomplished in the past year!
Attending one of the conferences below? See which DRK-12 projects will be presenting their work:
If you work on a DRK-12 project that is currently funded and have not yet filled out the survey, we encourage you to do so! We also invite members of completed projects to share your research results, products, and services with the DRK-12 community. Please email this information to
cadre@edc.org
.
---
DRK-12 Research Methods Webinar Series on Social Network Analysis
Social network analysis is an analytical approach—including theoretical perspectives and methodological techniques—that focuses on the relationships among actors in a system using quantitative or qualitative data. To learn more about how to use social network analysis in STEM education research, join experts from the American Institutes for Research, the University of Texas at Austin, and the University of California, San Diego, for two engaging webinars:
Webinar 1: Social Network Analysis - An Introduction
Thursday March 26, 2020, 1-2:15pm ET
Webinar 2: Applying Social Network Analysis to STEM Education Research
Monday April 20, 2020, 1-2:15pm ET

Project Tip: Navigating Mid-Course Changes
Whether you are figuring out how to maintain rigor when faced with sample attrition or you need to switch PIs, don't forget to communicate with your program officer and external reviewers when you are facing significant changes in project budget, objectives, scope, timing, methods, PIs or co-PIs, or lead institution. Some changes require prior NSF approval. Document the challenges your project is facing, changes you want to make or have made, how those changes affect the project, and whether and how you are still able to meet the goals of your grant.
---
Newsbites from NSF, DRK-12, and NSF Networks
News from NSF
Computer Science for All (CSforAll: Research and RPPs) Webinar Recording
If you are interested in submitting a proposal to the CSforAll program, watch a recording of NSF's informational webinar. 
Dear Colleague Letter (DCL): Exploring the NSF 2026 Idea Machine
This DCL invites submission of proposals for conferences, and EArly-concept Grants for Exploratory Research (EAGERs), following the themes that emerged in the top group of Idea Machine entries. See the DCL for deadlines.
Frequently Asked Questions on Current and Pending Support 
This FAQ addresses policy questions related to the PAPPG clarifications to the current and pending support coverage, as well as questions regarding use of an NSF-approved format for current and pending support. 

NSF Grants Conference

The next NSF Grants Conference will be held May 18-19, 2020, in Minneapolis, MN. Registration for this conference will open on March 17 at 12 Noon EST and fill very quickly.

NSF Selects 7 Winners from Its First-Ever NSF 2026 Idea Machine Prize Competition
NSF has announced the selection of four grand prize and three meritorious prize winners for its first-ever NSF 2026 Idea Machine prize competition.
PAPPG Update Webinar 2020
A recording and slides from this February 6 webinar are now available. During the webinar, presenters reviewed the significant changes and clarifications to the revised NSF Proposal & Award Policies & Procedures Guide (PAPPG) (NSF 20-1), effective June 1.
---
News from DRK–12 Projects & Awardees
Email cadre@edc.org to share news from your project.
---
News from NSF Networks
See our Upcoming CADRE & NSF Network Events page for ATECentral, CIRCL, CAISE, CS for All Teachers, EvaluATE, NSF INCLUDES National Network or STELAR events that may be of interest to you.

---
Upcoming Opportunities
The following funding and publication opportunities, listed by deadline, may be of interest to you and your DRK-12 project members. 
Funding
---
In Case You Missed It
Highlights from recent newsletters and announcements: