Happy New Year!
We are starting the year with a commitment to disseminating your findings and resources in many different ways.
We have begun soliciting participants for the second annual NSF Video Showcase, May 17-23, 2016. Last year's experience was very successful with 112 videos, 
41
 of which were from DR K-12 projects. The event welcomed more than 22,000 unique visitors from 146 countries. Visit 
last year's showcase
 to see the kinds of videos that projects shared. We invite you to submit a 3-minute video about your project work. Registration dates and other important information are available on the event website. If you do not wish to contribute a video, but would like to serve as a facilitator, please email me at 
bberns@edc.org
. Facilitators will receive a small honorarium.
On February 1, grantees representing more than 20 DR K-12 projects will participate in our 9th STEM Smart workshop in San Francisco, with the goal of increasing practitioners' awareness of NSF-supported projects that have applicability to their work in implementing standards-based science in local districts. Materials from these presentations will be available on 
successfulstemeducation.org
. Thank you to those who agreed to participate.
Another dissemination opportunity will occur at the upcoming 2016 DR K-12 PI Meeting, which will take place June 1-3 in Washington, DC. We will be in touch soon to invite session proposals. We would like to encourage cross-project, interactive submissions as well as proposals from projects seeking feedback from colleagues. The agenda will also feature several poster sessions and other opportunities for informal networking.
Please remember that the CADRE newsletter now features a regular Newsbites section that highlights news from DR K-12 projects each quarter. The newsletter is distributed to more than 3,500 individuals, and other NSF networks frequently reprint information of interest across programs. We also collect information on your presentations at the myriad of professional conferences occurring in the spring, and will share this information with NSF Program Directors as well as the STEM education community.
Lastly, we want to call attention to our updated Social Media & Technologies Toolkit which might provide ideas for your dissemination activities. The toolkit includes a variety of resources for projects that are new to social media as well as those who are continuing to develop their social media presence.
Best wishes for a productive year!
Sincerely,
Barbara Brauner Berns
CADRE Principal Investigator
---
EVENTS
---
Upcoming Events
STEM Smart: Lessons Learned from Successful Schools
February 1, 2016 | San Francisco, CA
Next month, educators, administrators, researchers, industry representatives, policy makers, and other stakeholders will gather at the 9th STEM Smart Workshop. The event will feature National Science Foundation-supported research and instructional resources, primarily in science, that can enhance K-12 STEM education. Plenary panels and smaller interactive sessions will focus on a variety of topics related to teaching and learning in today's classrooms, including:
selecting and evaluating instructional materials;
evidence-based curricula and resources that align with or can be adapted to standards;
scientific practices;
cyberlearning resources;
professional development and implementation;
and new assessment approaches.
Registration is full, but we invite you to review the agenda and stay tuned for more information on the programs and resources featured at the event as well as slides from plenary and concurrent sessions.
March 2016
Keep an eye on your inbox! In March (date and time TBD), NSF will share information on the Faculty Early Career Development (CAREER) Program and solicitation, with time reserved for participant questions. In the meantime, we welcome you to review the recording of last year's session or share it with your early career team members.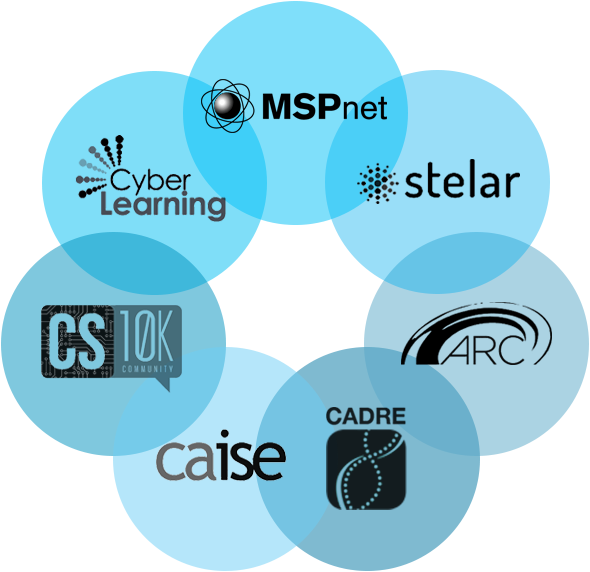 2016 NSF Video Showcase
May 17-23, 2016
Following the success of last year's 
Teaching & Learning Video Showcase
, MSPnet, in collaboration with CADRE and other NSF EHR resource centers, is organizing a 2016 Showcase: 
Advancing STEM Learning for All
. During this virtual event, participating NSF-EHR projects create and share videos about their innovative work and participate in lively discussion with visitors. This year's theme is broadening participation and increasing access to quality STEM and Computer Science experiences (though submissions outside of this theme are also welcome). The DR K-12 community submitted 
41
 of the 112 videos in last year's Showcase, and nine received special recognition. We hope to have a similar showing in this year!
Presenter registration opens on 
January 25
 and is mandatory for those projects wishing to contribute a video. Participating projects will each create and submit a 3-minute video that illustrates the project's intervention, innovation, and impact (or potential for impact for new projects). The deadline for video submissions is 
April 28, 2016
. Please see the 
Videohall: Moviemaking Guide
 for tips on making your video, and note that ast year's participants are welcome to submit a new video this year. 
June 1-3, 2016
We are continuing to plan for this year's PI meeting, where grantees on actively-funded projects will gather in Washington, DC to engage in building and sharing new knowledge, best practices, and tools critical to increasing the impact and sustainability of our work over time.
Updated Timeline:
February 2015: Call for proposals
March 2016: PI registration opens
April 2016: Poster registration
Thank you to our advisors who have provided invaluable input on the meeting's content and format: Brian Belland, Amy Brodesky, Tutita Casa, Cathy Kinzer, Magaly Lavadenz, and Amy Parks. If you didn't have a chance to complete this survey, we still welcome your input on compelling plenary topics and speakers.
---
Past Events
November 9, 2015
In November, STELAR, CIRCL and CADRE teamed up to host the NSF-supported Forum on Next Generation STEM Learning for All in Washington D.C. The Forum was the kick-off event for the 
White House Next Generation STEM High School Summit
 that occurred the next day on November 10th, organized by the White House Office of Science and Technology Policy. Several PIs and co-PIs on active DR K-12 projects presented or chaired sessions at the Forum: Jodi Asbell-Clarke, Leah Clapman, Ethan Danahy, Eric Hamilton, Christopher Harris, Vikram Kapila, Joseph Krajcik, Okhee Lee, Sharon Lynch, June Mark, Barbara Means, Catherine McCulloch, Karen Oberhauser, Kathy Perkins, Barbara Schneider, and Kathy Wright. Resources from the Forum, including videos, PowerPoint presentations, and graphic recordings, are now 
online
. A final report on the Forum, with a summary of the event and recommendations, will be available in March 2016.
---
RESOURCES
---
New Brief on Broadening Participation
CADRE is pleased to share a new brief as part of our continuing spotlight on Broadening Participation in STEM. Broadening Participation-Making STEM Learning Relevant and Rigorous for All Students explores factors that contribute to opportunity gaps in STEM education based on race, ethnicity, gender, ability, and socioeconomic status. The brief showcases the work of several DR K-12 projects and describes promising approaches for removing barriers for underrepresented groups and enhancing the STEM learning of all students.
Many thanks to DR K-12 grantees who contributed to the development of this resource: Samantha Daley, Jessica Hunt, Maritza MacDonald, Vera Michalchik, Babette Moeller, M. Alejandra Sorto, and Jakita Thomas.
---
Mentoring in DR K-12
In response to high levels of interest in this topic, we would like to remind you of the resources available in our Mentoring Spotlight. These may be useful as you write or implement a project mentoring plan, develop mentoring strategies for your work with mentees, or identify your own professional interests and needs as a post-doc or graduate student.
The spotlight includes the following:
---
Updated Social Media & Technologies Toolkit
Whether you're just starting to consider the role of social media in your project or you're interested in enhancing an established social media presence, CADRE's Social Media & Technologies Toolkit (updated December 2015) has a wide range of resources that may be helpful.  We've collected a suite of information on different tools and platforms, tips for reaching and engaging different audiences, and more. CADRE continues to update this toolkit, so let us know if you have additional resources to share.
---
PROJECTS & PEOPLE
---
CADRE Fellowship Update
The CADRE Fellows have been busy since the in-person orientation meeting at EDC in October. In November and December, Fellows explored different career pathways in STEM education R&D. In a webinar on university career opportunities, PIs Jeffrey Barrett, Joseph Polman, and Fellowship alumnus Jana Craig Hare discussed topics such as choosing a career path, benefits of post-doctoral positions, preparing a strong CV, and how to interview and negotiate a position. In a second webinar, Ximena Dominguez, Sue Doubler, and Alina Martinez met with Fellows to discuss the potential benefits of non-academic career pathways, types of positions that exist in non-academic organizations for early career professionals and the differences in the application, interview, and negotiation process in non-academic vs. university settings. Fellows are currently working on an independent research project related to career pathways that involves researching non-academic organizations and post-doctoral positions in their preferred geographic location, as well as preparing their CV. The next topic to be covered in the Fellowship is writing for publication.
We have recently updated the Fellows' "Where are they now" page with several new profiles and additions to existing profiles for Fellowship alumni.
---
Project Websites, Publications, and Presentations
We regularly collect and compile information from DR K-12 projects on their project websites, publications, and presentations. Thank you to all who responded to our recent request! We invite you to explore your colleagues' products and plans for this spring's conferences.
It's not too late to share your project-related website, publications, or presentations. Fill out our survey and we'll include it in future broadcasts as well as on our website.
---
Newsbites from DR K-12 & NSF
We're pleased to share this quarter's news from DR K-12 projects as well as our sister resource networks who serve other NSF funding programs (ARC, CAISE, CIRCL, MSPnet, and STELAR). In addition to our newsletter digest, we disseminate your news items on our website and social media. Let us hear from you!
News from DR K-12 Projects
News from NSF Networks
---
Share with DR K-12 Colleagues
If you are PI or Co-PI on a DR K-12 grant, we encourage you to share this newsletter with your colleagues. Many of our news items, resources, and events may be of special interest to others on your project team, e.g., early career researchers and developers, evaluators, communication specialists, etc. We welcome all as part of our DR K-12 community and invite them to subscribe to this newsletter, join us on social media, and create an account on the CADRE website.
Subscribe   Create CADRE Account
---
Help Us Improve!
Let us know how we can improve our communications by completing a short survey.