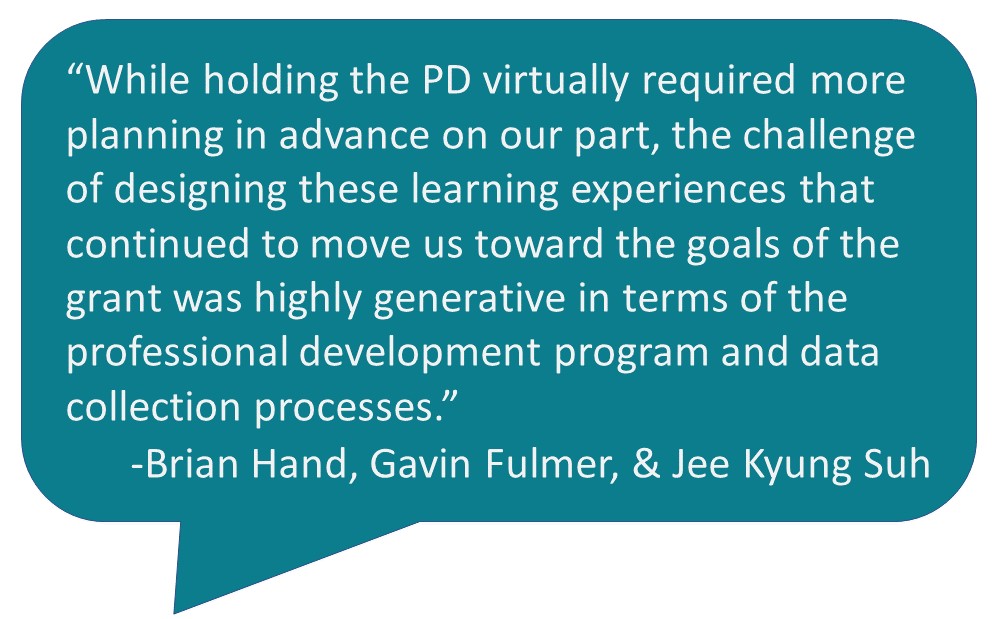 Whether the pandemic-related changes in teaching and learning are short-term or the catalyst for a paradigm shift in education, many—if not most—DRK-12 projects have needed to adjust their research practices and design. In this Spotlight, four projects share the changes they made to their questions and/or collection, measurement, and analysis of data.
Aligning the Science Teacher Education Pathway (ASTEP) Shifts in Research Post-COVID-19 
Reflections by Michele Korb
Ed+gineering: Adaptations to COVID-19
Reflections by Jennifer Kidd, Stacie Ringleb, Kristie Gutierrez, Pilar Pazos, Krishna Kaipa, and Orlando Ayala
Moving Beyond Pedagogy: Developing Elementary Teachers' Adaptive Expertise in Using the Epistemic Complexity of Science
Reflections by Brian Hand, Gavin Fulmer, Jee Kyung Suh
Science Communities of Practice Partnership (SCOPP) Response to the Pandemic
Reflections by Kathryn Hayes, Christine Bae, Dawn O'Connor, Jeff Seitz
Additional resources from the Adapting Your DRK-12 Research Amid the COVID-19 Pandemic webinar.