Poster registration closed May 14.
How will it work?
Posters will be available for asynchronous viewing as soon as the event site opens. General Poster Sessions will take place each day, June 15-17.
CADRE used information provided during sign up to create a poster page for the project in the event platform. All registered project members were given presenter privileges, i.e., they will be able to add files, create polls, and use Zoom presenter controls during the live session. If you need to update the information on the session page after it's created (e.g., title or description), please email those updates to cadre@edc.org.
MAY 25-31: UPLOAD YOUR POSTER
Presenters should take this time to upload their posters, add related resources, and/or create an attendee poll.
If you have updates or edits to the information on the page (submitted during poster sign-up), please email those changes to cadre@edc.org.
Details on content and formatting are below.
JUNE 1-14: BROWSE POSTERS
Attendees are able to browse posters, view related materials, respond to polls, and chat with presenters via the chat on the poster page.
JUNE 15-17: GENERAL POSTER SESSIONS
Each poster is assigned to a general poster session on either June 15 (3:30-4 PM ET), June 16 (2-2:30 PM ET), or June 17 (11-11:30 AM ET). During this 30-minute session, poster presenters will have a Zoom meeting room where other attendees can stop by to ask questions or chat about the poster and project's research.
Format & Content
FORMAT
The virtual poster format is flexible. You are welcome to represent your work using the media format of your choice. Please make your materials accessible when possible. Files with a 16:9 aspect ratio (e.g. 2560 x 1440) are recommended. The poster viewer has built in zoom controls so the absolute size isn't necessarily important, but a minimum of 2560x1440 will yield clear results.
A featured file will appear at the top of the page in a window with zoom in/out controls (see example page below). UPDATE: The system features files based on file type and file size. If you upload a PDF, it will be your featured file. If you upload more than one PDF, it will feature the file with the larger file size. It will opt to feature PDFs over Powerpoints, Powerpoints over Images, and Images over Word docs. So, for example, If you upload a Powerpoint and a Word doc, the Powerpoint will be your featured file.
In addition to your poster, you can add multiple files (including video), as well as links, to give attendees access to related materials and resources. See
Step-by-Step Instructions
.
Here is an example poster page with information on what is displayed in each section: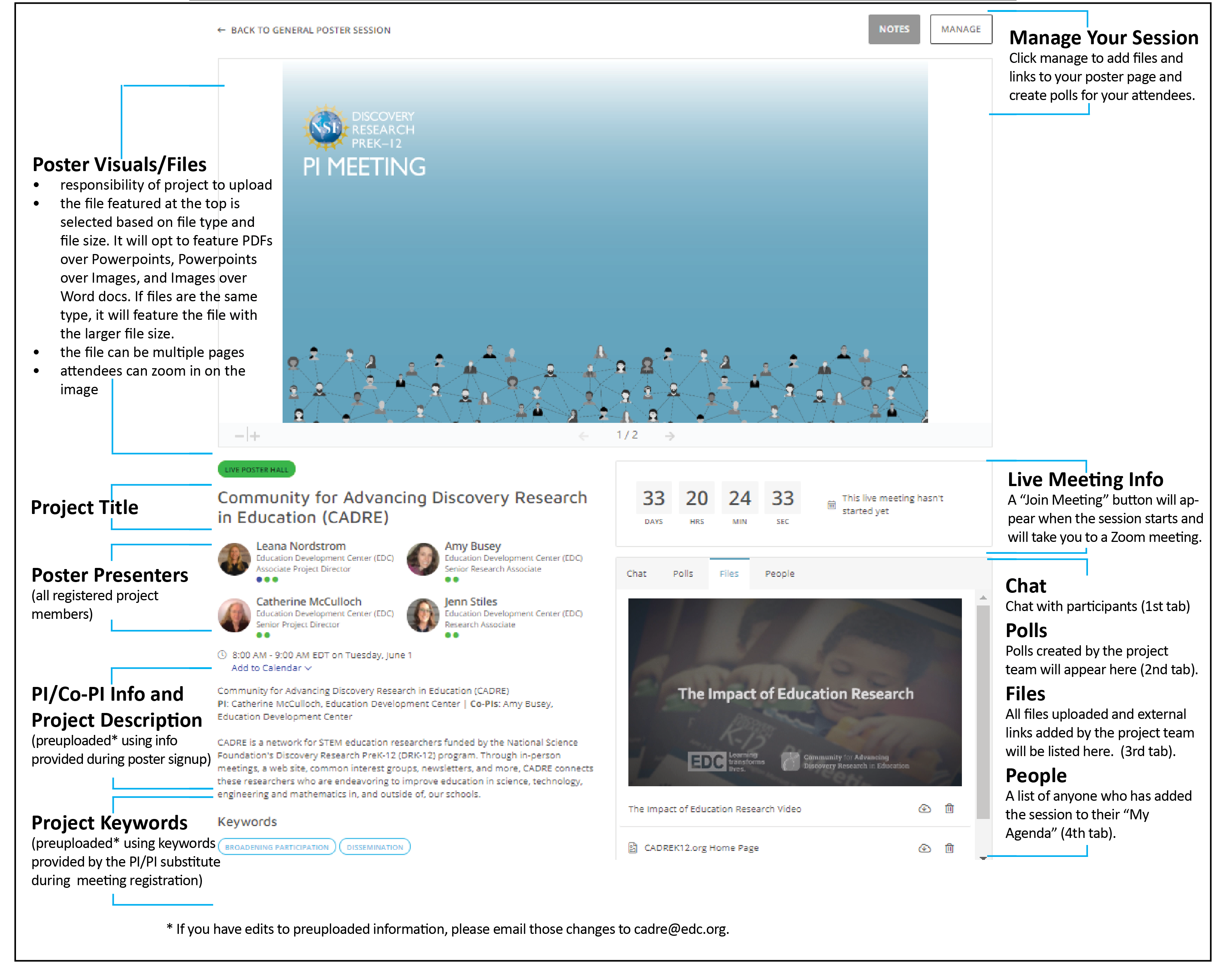 The poster page will have the following information pre-populated using the information provided during sign up:
Project Title
Principal Investigator's name and organization
Co-principal investigators' name(s) and organization(s)
Short description of project
No matter which format you opt to use, please try to include the following content in your poster, related materials, and/or the short description:
Brief summary of the project, including:

What is the context of the work?
What claims, questions, or hypotheses are examined in the work?
What are your research design, data collection and analysis methods, and evaluation plan?
What are your evidence-based results?
What are your products?
What are the implications of your findings?
How is the project making an impact?

Please include an NSF disclaimer on your materials: This project is funded by the National Science Foundation, grant # <insert award number>. Any opinions, findings, and conclusions or recommendations expressed in these materials are those of the author(s) and do not necessarily reflect the views of the National Science Foundation.
Your poster page will be tagged with the project keywords submitted by the PI/PI Substitute when they registered for the PI meeting.
If you have changes to the keywords, short description, or PI/Co-PI information, please email those updates to cadre@edc.org and we will update the information for you.
How Tos & Helpful Information