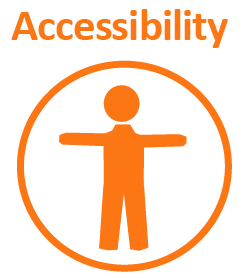 Background
Section 508 of the Rehabilitation Act of 1973 was amended in 1988 to require federal agencies to make their electronic and information technology (EIT) accessible to people with disabilities. Projects funded by the National Science Foundation should be 508 compliant to increase equal access to materials.
General Resources
Section 508 Requirements and Responsibilities
Section508.gov explains the law and provides guidance and examples of best practices.
Additional Accessibility Resources
CIRCL (the resource network for NSF's Cyberlearning program) has compiled publications, videos, resource centers, Q&As, case studies, and best practices at http://circlcenter.org/resources/accessibility/.
Video Compliance
Add closed captioning to videos for viewers who can't hear the audio. 
Webinar Compliance
The FDA provides a list of Accessible Web Conferences and Webinar Best Practices. If you would like to caption your webinar in real time, companies such as CaptionFirst offer this service for a fee.
Website Compliance
You can make your website more accessible by making hyperlink text descriptive, captioning and transcribing audio (including using ALT tags), using a NULL value for unimportant graphics, and using frames sparingly, to name a few examples. Washington University's DO-IT (Disabilities, Opportunities, Internetworking, and Technology) Center has a great overview of how to make your website accessible. 
Contrast Checker is a tool to test color contrast compliance with the Web Content Accessibility Guidelines (WCAG).
Document Compliance
There are many ways to make documents more accessible. The U.S. Department of Health and Human Services (HHS) provides checklists to help you when starting a new document: Excel Document 508 Checklist, PDF File 508 Checklist, PowerPoint Document 508 Checklist, and Word Document 508 Checklist.
HHS has also created a guide to Making Files Accessible, which includes the above checklists, common accessibility issues to avoid, and video tutorials.
Additional video tutorials from the NCCC Compliance Project are listed below: