While COVID-19 has disrupted our lives in unprecedented ways, it is not the first pandemic or epidemic to cause fear, uncertainty, and spread of misinformation. In 2015, NSF funded three RAPID DRK-12 awards to educate the public about the Ebola virus and other infectious diseases. These projects aimed to improve understanding of virulence and transmissibility as well as support to students, teachers, and administrators as consumers of information about infectious diseases.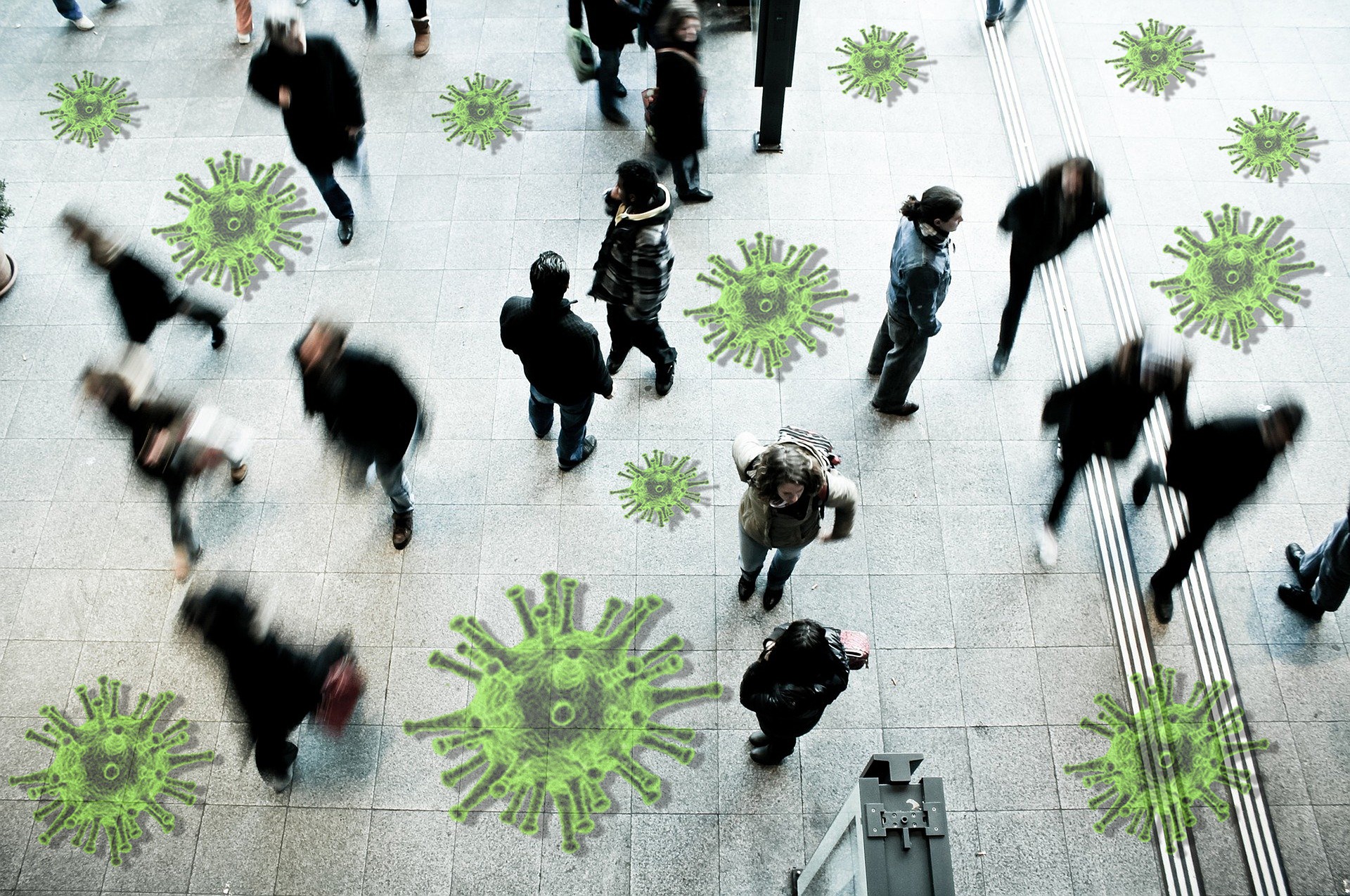 This spotlight features products and findings from that work that have relevance in the current pandemic, as well as a perspective piece by Jacqueline Miller, which emphasizes the importance of developing critical-thinking skills to help learners navigate this context and others of social importance (e.g., climate change).
---
Becoming a Critical Thinker in the Time of Epidemics and Pandemics
Jacqueline Miller, Consultant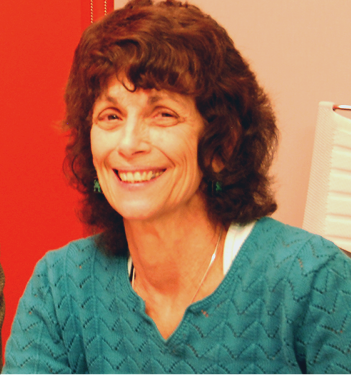 Every 12 to 18 months a new epidemic of infectious disease erupts somewhere in the world. Most of these epidemics remain contained within the small areas where they originated but the ubiquity of air travel has increased the movement of people, and therefore infectious diseases, considerably. Accompanying this movement has been the ongoing concern that a localized epidemic could become a threat to nations far from the epicenter of the infectious disease.  Viruses causing diseases such as HIV, SARS, MERS, and influenza have sickened and killed millions around the world. But except for the great influenza pandemic of 1918, which killed as many as 100 million people, no infectious disease has spread so rapidly and disrupted everyday life so dramatically and globally as COVID-19 pandemic of 2020.  
Regardless of the scale, reports of deadly epidemics often result in fear and panic in populations that may not even be at risk, engendering behaviors that are inappropriate to the disease and out of proportion to the risk. A recent example of these behaviors occurred with the Ebola epidemics in 2014. Despite the fact that an epidemic of Ebola in the United States was highly unlikely, basic social functions were disrupted: businesses closed their doors, travel was cancelled, and students were kept home and out of school. Even when the population is at serious risk of sickness and death, as with COVID-19, many people are confused and bewildered, wondering how to protect themselves, questioning measures put in place based on scientific knowledge, and fearing the future.
Much of this behavior can be attributed to a lack of basic understandings about infectious diseases—what they are, what causes them, how they spread, and how they can be prevented and treated. Misinformation and misconceptions perpetuated by folklore, scientifically inaccurate ideas on the Internet, bias media, and even our legislative leaders compound the problem...
---
Featured Projects
PI: Jacqueline Miller
Grade Band: 6-12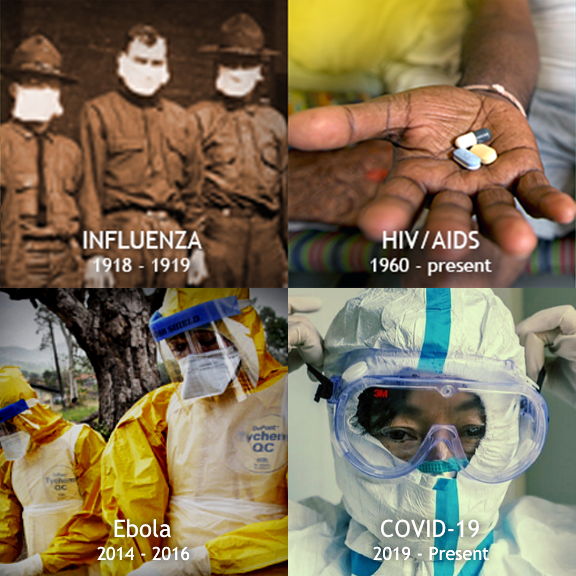 Description: This project developed a Web-based set of instructional materials aimed at deepening high school students' understanding of infectious diseases, their causative agents and spread, and how to responding to and control them. These materials are also designed to enhance students' skills in seeking out and assessing the information they need to make informed decisions and modify their behaviors in response to future outbreaks and epidemics.
Advice & Resources for the STEM Education Community: While the overarching narrative of the Exploring Infectious Diseases modules is centered on the recent Ebola and measles outbreaks, emerging information from the COVID-19 pandemic has been incorporated into the materials, and they address concepts and skills that are applicable across diseases and other science contexts. See the PI's blog for additional reflections on how the STEM education community can contribute during this and future pandemics and epidemics.
Products: Exploring Infectious Diseases Website & Instructional Materials
---
PI: Sean Smith | Co-PI: Joan Pasley
Grade Band: K-12 teachers and administrators
Description: This project surveyed and interviewed K–12 science teachers following the 2014 Ebola outbreak. The survey probed, for example, teachers' knowledge about Ebola and infectious diseases, where they got their information, and how such information is incorporated into instruction. The resulting products and resources provide instructional guidance for teaching about the Ebola virus and other epidemics of infectious diseases.  The study also highlighted the public-health function science teachers serve in such a crisis. 
Findings: The following was adapted from the findings presented in Research to Practice Brief: The Critical Role of Science Teachers in Communicating Accurate Information About Zika.
Most science teachers did address Ebola in their classrooms.
The survey found that despite Ebola not being a part of their curriculum, most K–12 science teachers addressed it in their classrooms.  Specifically, over three-quarters of middle and high school science teachers and just under half of elementary science teachers devoted some class time to the topic, typically one or two class periods.  Middle school and high school life science teachers might be expected to address a topic like Ebola (and the vast majority did, reaching several million students), but the study found that almost half of those who did not teach life science (e.g., chemistry and physics teachers) also addressed Ebola with their students.  Why?  Among all types of teachers, the most frequently cited reason was that students were interested in the topic and asked questions.  Almost 80 percent of science teachers surveyed reported that students asked about the virus before teachers addressed the topic. 
Science teachers searched for appropriate information about Ebola to use with their students. 
Study data indicate that teachers actively sought information about the virus and disease, likely to shore up their own knowledge.  Among those who addressed Ebola, two-thirds reported relying on websites from health organizations (e.g., CDC, NIH, WHO).  No other resource was relied on nearly as much, including television news programs, newspapers (print or online), websites from science teacher organizations, or magazines. Interviews conducted with teachers following the survey indicated that teachers would benefit from access to resources that are age appropriate for their students, which was not surprising as a lack of resources was cited by many teachers as a deterrent to teaching about Ebola.
Science teachers were more likely to teach about Ebola if they were confident in their knowledge of the topic. 
The survey asked science teachers to respond to true/false statements about the Ebola virus and Ebola virus disease.  In addition to answering each statement, respondents rated their confidence in their answers.  These responses were combined into a single confidence score for each individual.  Among high school science teachers, one of the largest differences between those who did and did not teach about Ebola was confidence in their knowledge of Ebola.  Similarly, about a third of high school teachers who did not teach about Ebola reported that their knowledge of Ebola discouraged them from addressing Ebola in their classroom, compared to only 6 percent who did teach about it.
Advice & Resources for the STEM Education Community: The following was adapted from the recommendations outlined in Research to Practice Brief: The Critical Role of Science Teachers in Communicating Accurate Information About Zika and The Multiplier Effect: Leveraging K-12 Science Teachers to Communicate Accurate Information About Zika.
Instruction should acknowledge students' interest and concern and use them as an entry point for discussing COVID-19. 
Typically, science teachers must generate interest with a question or problem that engages students.  With topics like Ebola and COVID-19, students come to class with interest and questions, and some questions are predictable: What is COVID-19?  What are the symptoms?  How likely am I to get it, and if I do, what will happen to me?  How does COVID-19 spread, and how to do you prevent it from spreading?  Teachers should anticipate these questions and be prepared to use them as entry points for instruction about COVID-19.
Instruction should deepen students' understanding of core science concepts and practices. 
Given time constraints for addressing required content, COVID-19 instruction should integrate students' learning about core science concepts while engaging them with the science practices.  What the coronavirus is, how it spreads, and how it can be avoided offer opportunities for authentic exploration of key science ideas, with students asking questions, constructing arguments from evidence, and developing explanations.  Students can also engage with the science and engineering practices in the context of learning about COVID-19.  For example, students can construct models of the spread of COVID-19. 
Resources should accommodate varying depths of coverage. 
Study data indicate that life science teachers spent more time addressing Ebola and covered more topics than non-life science teachers.  Resources that begin with basic information about COVID-19 and then offer alternatives for more in-depth treatment will serve the needs of both groups of teachers.
Developers of resources should assume limited knowledge on the part of teachers about coronavirus specifically, and viruses more generally. 
Study data indicate that a substantial number of physical science teachers (e.g., chemistry and physics teachers) will devote class time to COVID-19, and they are unlikely to have strong biology backgrounds.  Thorough background knowledge will benefit them and less well-prepared life science teachers.
Mechanisms should be employed to update teachers on emerging research about COVID-19. 
Given the ongoing efforts to learn about COVID-19, what we know about the virus will change and information provided to teachers will be incomplete.  It would be beneficial, therefore, to set up mechanisms to update teachers about the status of what is being learned and alert them to new or revised resources.  For example, when teachers initially seek resources about COVID-19, they can be asked to provide their contact information, which can be used to send out alerts over time. 
Science teacher organizations are effective dissemination mechanisms. 
The National Science Teachers Association (NSTA) has over 55,000 members.  Other organizations, like the National Association of Biology Teachers (NABT), serve particulate segments of the science teaching force.  These organizations have effective processes in place for disseminating information quickly to their members and can be valuable partners with health organizations that have developed COVID-19 resources.
Products: 
---
PI: Mark Bloom | Co-PIs: Susan Kowalski
Grade Band: 9–14 (This resource could be used with advanced middle school students, but it is more appropriate for high school and early college students.)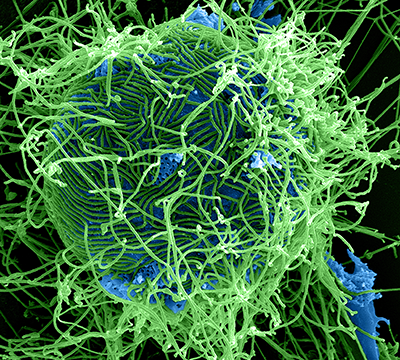 Description: This is a free online resource to educate the public about Ebola virus disease. The resource includes an interactive model that allows teachers, students, and community members to actively explore the factors that influence a disease's spread and mortality rate.
Findings: We found that users who completed the interactive module demonstrated better understanding of Ebola virus disease compared to those who had not yet completed the interactive module. Particularly difficult ideas for users to master include that Ebola virus disease is not easily spread through the air, and that the virus can be destroyed with soap, water, and bleach.
Advice & Resources for the STEM Education Community: The resource allows users to consider how modest changes in the characteristics of a virus or the response to an outbreak can have strong effects on the number of people becoming sick or dying from the disease. The lessons learned about Ebola virus disease and response can be easily transferred to the current COVID-19 context. An important difference between the Ebola virus and the coronavirus is that the coronavirus is easily spread through the air and through casual contact, but the Ebola virus is not so easily spread.
Products: Understanding Ebola Virus Disease Online Resource
---
PI: Troy Sadler | Co-PIs: Patricia Friedrichsen, Laura Zangori
Grade Band: 9-12
Description: This research project will produce curricular materials designed to help students learn about viral epidemics as both a scientific and social issue. It will engage students in scientific modeling of the epidemic and in critical analyses of media and public health information about the virus. This approach helps students connect their classroom learning experiences with their lives beyond school, a key characteristic of science literacy. Learn More
Products: COVID-19 Curriculum Materials
---
Additional Resources