With spring almost here and preparation for conferences underway, we are all thinking more about dissemination strategies. Let us help you! Send us a quick update on your project with an accompanying link to more information, and we'll be happy to spread the word through CADRE's website, social media, and quarterly newsletter.
We also want to remind you that CADRE is participating in NSF's first cross-program video showcase event. An estimated 100 project leaders have volunteered to enter three minute videos about an intervention, innovation, or research related to their NSF awards. More than 35 of these are volunteers from the DR K-12 community. Even if you are not preparing a video, you can still participate by reviewing the videos during the week of May 11-15 and spreading the word about the event to your networks.
In addition to dissemination, we are continuing to focus on early career researchers and developers. If you are a mentor or a mentee, we encourage you to visit our Spotlight on Early Career STEM Education R&D for our recently posted podcast and videos focused on mentoring. Thank you to Chris Rogers (Tufts University) and Kristen Wendell (UMASS, Boston) for sharing their insights on mentorship and strategies for building a successful mentor/mentee relationship.
The Fellows have continued to meet with a focus on writing for publication. Cory Buxton, Dan Chazan, and Kate McNeill shared their expertise and perspectives on a number of publication-related topics that generated good conversation and set the stage for the Fellows' writing projects. Beginning in April, Fellows will focus on proposal writing, culminating in a mock review at the NSF in June.
Planning is underway for a 2016 DR K-12 PI meeting, most likely to be held in June. We'll be in touch soon to solicit ideas and recommendations for the meeting.
Sincerely,
Barbara Brauner Berns
CADRE Principal Investigator
---
EVENTS
---
2015 Teaching & Learning Video Showcase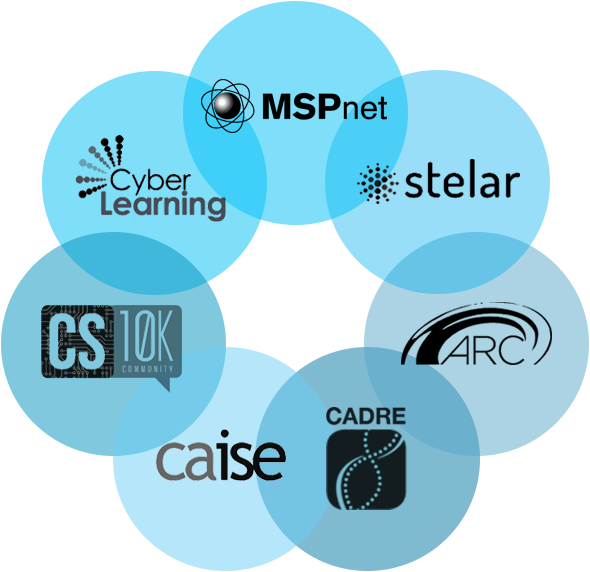 In March, CADRE teamed up with NSF's resource centers, ARC, CAISE, CIRCL, CS10K, MSPnet, and STELAR, to offer projects the opportunity to showcase their work through the 2015 Teaching & Learning Video Showcase. Registration for the showcase ends April 3rd.
This interactive, virtual event will be held May 11-15. Even if you aren't contributing a video, we hope you will participate by viewing, commenting, and voting on your favorites! 
Please spread the word about the showcase to those interested in education. The videos may give you and your colleagues ideas about how to share your work through CADRE and other dissemination channels.
Learn more.
---
Projects & People
---
New Resources on Early Career in STEM R&D
Since our last newsletter, CADRE has been expanding the Spotlight on Early Career in STEM Education R&D to include more resources. If you are applying for an NSF CAREER award, we recommend that you visit our spotlight to review the solicitation, FAQs, and related webinar and slides. In addition, CADRE is posting fellowships, internships, conferences, and other opportunities for CAREER awardees and early career researchers (see the Opportunities section of the Spotlight).
Mentoring Podcast & Videos
Want to learn more about mentoring? We recently sat down with Chris Rogers (Tufts University) and his former mentee Kristen Wendell (UMASS, Boston) to talk about mentorship and what worked well for them. Listen to a podcast of that conversation or view short videos featuring different mentoring topics, including: Building a Supportive Mentor-Mentee Relationship; Creating a Community of Learners; Finding the Right Mentors; Gauging What the Mentee Needs; Giving the Mentee Space to Learn; Mentoring Goals and Project Goals; and NSF Mentoring Plan.
CAREER Program Webinar Recording
This webinar provided an informational overview of NSF's CAREER prgram with perspectives from the NSF and PIs on active CAREER grants. Presenters included: Alicia Alonzo, Tina Grotzer, Karen King, and Gloriana González Rivera.
Still to Come: A Brief on Mentoring
A CADRE brief on mentoring is coming soon! In the meantime, please let us know if you have additional resources we should share with the DR K-12 community.
Visit the Spotlight on Early Career in STEM Education R&D.
---
CADRE Fellows Update
2014-2015 Cohort
The Fellows have continued to explore different aspects of STEM education R&D. In January, Fellows explored non-academic career pathways with PIs from various research and development organizations. In February, the Fellows discussed academic publishing with DR K-12 PIs. They also researched potential journals, drafted manuscripts, and peer-reviewed each other's articles. In the spring, the Fellowship will wrap up with a focus on proposal writing, including interaction with two DR K-12 PIs who will share their experiences developing newly funded grants, and a May visit to the NSF for a mock proposal review and meetings with program officers.
Learn more about the CADRE Fellowship and this year's calendar of activities.
Fellowship Alumni
The CADRE Fellowship has been going strong for six years now. We recently caught up
with some of our alumni and added information to our website about their new professional roles, research interests, and their reflections on the CADRE Fellowship. A big thank you to Sara Rand and Jonathan Hertel who have served as "informal mentors" to current Fellows.
Find out where Fellowship alumni are now.
CADRE would also like to thank the following grantees for graciously sharing their time and expertise as part of the Fellowship programming: G. Michael Barnett, Malcolm Butler, Cory Buxton, Dan Chazan, Corey Drake, Lynn Goldsmith, Kate McNeill, Carlos Mejia Colindres, Jackie Miller, Steve Schneider, and Michelle Wilkerson-Jerde. Thank you in advance to Stamatis Vokos and Barbara Reys who will be sharing their proposals and expertise later this month!
---
RESOURCES
---
2014-15 Project Presentations, Websites, and Publications
Thank you to everyone who filled out CADRE's survey on recent publications, upcoming presentations, and project websites. We've compiled the results in Excel files (available below) as well as on cadrek12.org: publications have been added as searchable resources; DR K-12 awardees who are presenting have been listed on event pages in the calendar; and project websites have been added to project pages.
Attending conferences this month? Find upcoming presentations by DR K-12 grantees.

See what your colleagues have recently published. 

Check out these project web and social media sites.
Forget to send us information from your project? It's not too late! We continue to welcome and update this information throughout the year.
Share your project's websites, publications, and presentations by completing this survey.
---
Newsbites from DR K-12 and NSF
We regularly solicit and share updates about DR K-12 projects, as well as our sister resource networks who serve other NSF funding programs (ARC, CAISE,CIRCL, MSPnet, and STELAR). In addition to disseminating this information on our website and social media, we are also excited to provide a digest of newsbites in our quarterly newsletters.
News from DR K-12 Projects
The "Adapting Science for Kids" (ASK) project supports teacher-to-teacher sharing.  See how teachers adapted 131 science lessons to "teach more than science when teaching inquiry science."  View the lesson videos, Teacher Lesson Adaptation Notes (TLAN) and other resources at http://justaskateacher.com. To find out about contributing a lesson, contact matthewscc@umsl.edu.
The Innovate to Mitigate project is currently running a competition that invites students to submit ideas (up to 250 words) to reduce greenhouse gases. See http://innovatetomitigate.org for all the details.
The collaborative project, Model My Watershed, is a web-based hydrologic model using real GIS data to show how land use impacts local hydrology. The project will be expanding the application's capacity by integrating flood, storm-surge, drought, crop and geologic hazard modeling. These new models will assist citizens and professionals in evaluating environmental risks and planning responses. Learn more at http://wikiwatershed.org/model/ or follow them on Facebook at https://www.facebook.com/WikiWatershed.
The Integrating Engineering and Literacy project's website, http://novelengineering.org/, features their work with students using classroom literature such as stories, novels, and expository texts as basis for engineering design challenges.
Sarah Sword and Ryota Matsuura have published an article, "Illuminating Coordinate Geometry with Algebraic Symmetry," in Mathematics Teacher in which they describe an application of symmetric polynomials to a familiar problem in coordinate geometry, thus introducing this powerful tool in a context that is accessible to high school students.
Gracie & Friends Birthday Caféand Possible Worlds made the "Best EdTech of 2014 List" published by Common Sense Media's Graphite platform in December 2014.
DR K-12 PI Jere Confrey was recently featured in this NSF Discoveries video on math education research.
Brian Reiser's DR K-12 work was featured in Edweek's Teaching the Next Generation Science Standards With 'Mysteries' blog. 
Want to share news from your project? Email cadre@edc.org.
News from NSF Networks

---
Upcoming Publication Deadlines
Thinking of submitting a manuscript? Need help determining which journal is right for your work? CADRE offers a comprehensive list of publications for STEM educators, policymakers, and researchers. This index offers details about target audience, types of content, and peer review status of widely read publications in the field of education. For your convenience, it also links you directly to submission guidelines.  Most publications accept submissions on an ongoing basis, but below are a few deadlines that are approaching quickly that might be of particular interest for practitioners:
April 1, 2015
Association for Supervision and Curriculum Development's Educational Leadership (theme: Questioning for Learning – Sept. 2015)
April 18, 2015
National Science Teachers Association's Science Scope(theme: New Tools for Data Collection and Sharing)
May 1, 2015
June 1, 2015
National Science Teachers Association's Science Scope(theme: Improving Critical Thinking)
Association for Supervision and Curriculum Development's Educational Leadership(theme: Doing Data Right – Nov. 2015)
Download the complete copy of the Publications for STEM Educators, Policymakers, and Researchers index.

The most up-to-date version of this index can always be found on the CADRE Event page under STEM Publications.
---
Contact Us
If you want additional information on CADRE or have specific questions, please email cadre@edc.org. Join us on Facebook or Twitter to receive the latest news and information from CADRE.