Early career can take on a variety of meanings within the NSF research and development community. For example, NSF targets junior faculty as one early career population in the CAREER program solicitation. Yet many other new PIs and co-PIs may also consider themselves to be early in their careers. For the purposes of this Spotlight, CADRE is purposefully NOT limiting the definition of early career. Rather, we hope this Spotlight and related resources are helpful to all of our community members who self-identify as early career professionals, or who work closely with them.
---
CADRE Early Career Guide: Tips for Early Career STEM Education Researchers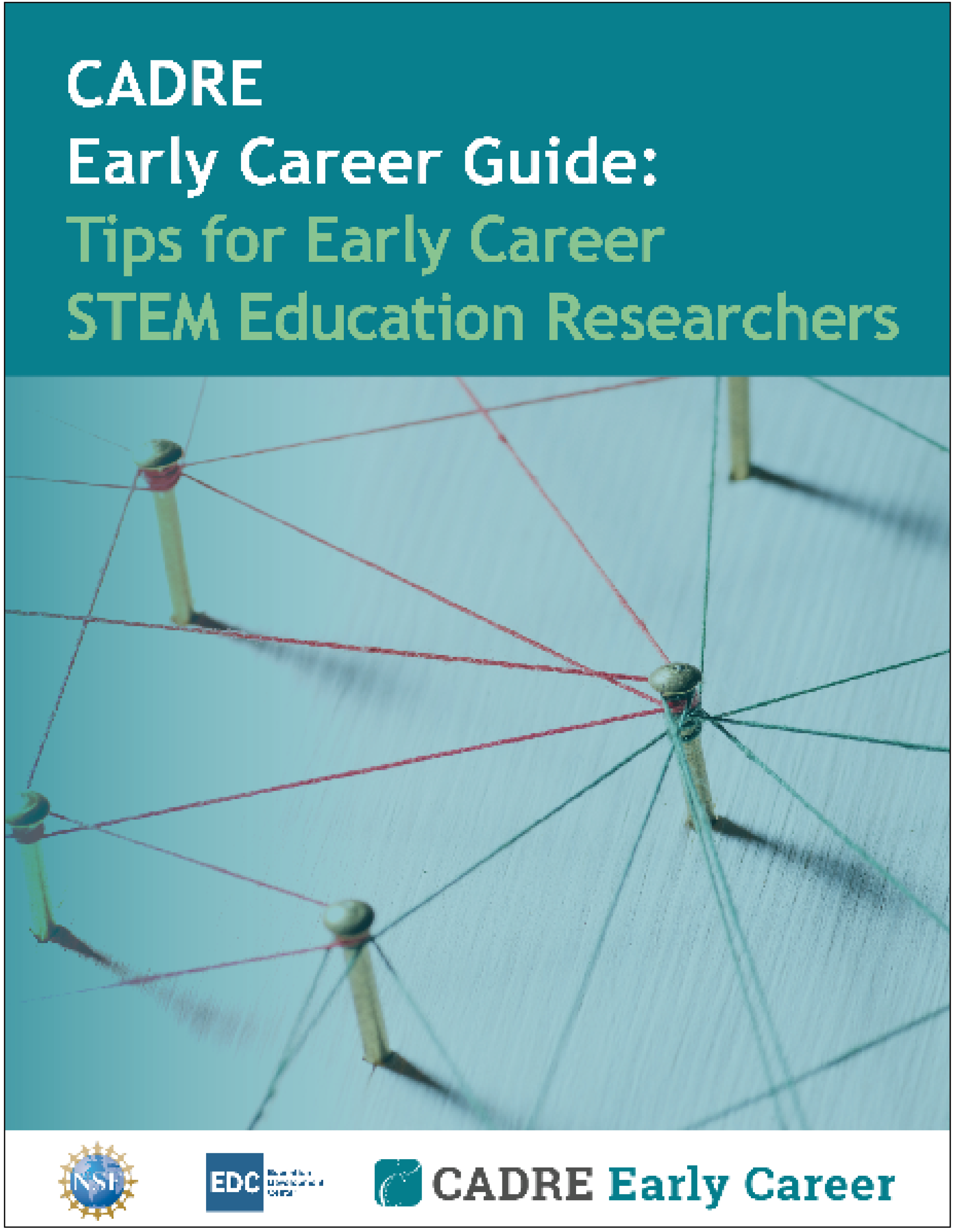 The CADRE Early Career Guide offers advice from experienced DRK-12 awardees on becoming a successful researcher in the field of STEM education, including:
The guide also profiles a support program, the CADRE Fellows, for doctoral students in STEM education research.
Early Career Researchers and Developers in the DRK–12 Program: Needs, Supports, and Recommendations
This CADRE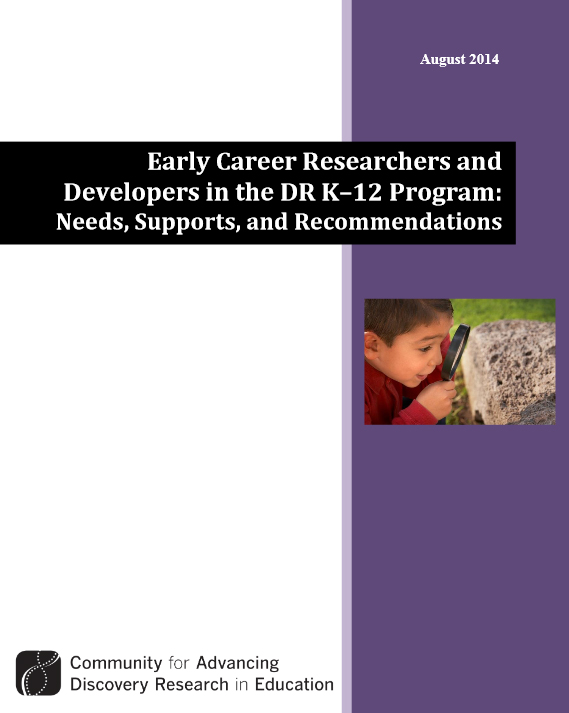 brief identifies needs, supports and recommendations for early career researchers and developers in the DRK-12 program, as well as in the broader field of STEM education R&D. This brief explores early career and veteran perspectives related to the following questions:
1. What topics and types of supports for professional growth do early career researchers and developers need and receive?
2. To what extent have sources of support proven helpful for early career professional growth, and how?
3. How might the support and professional development of early career researchers and developers be improved?
---
CADRE will continue to update early career opportunities.
---
CADRE FELLOWS PROGRAM
Each year, CADRE selects ten Fellows to participate in a year-long early career program. The Fellows meet in-person or virtually each month to learn about topics such as academic and non-academic career pathways, writing and publishing, networking, and proposal writing. At the end of the year, they are invited to participate in a mock review panel at NSF.
Learn more about the Fellows program and our current and past Fellows.
---
Faculty Early Career Development Program (CAREER)
NSF's CAREER Program supports "junior faculty who exemplify the role of teacher-scholars through outstanding research, excellent education and the integration of education and research within the context of the mission of their organizations."
NSF Suggestions for Enhancing the Quality of Proposals
A Dear Colleague Letter from the NSF on CAREER Proposals Submitted to the Directorate for Education and Human Resources (EHR) is focused on Suggestions for Enhancing the Quality of Proposals.
2018 NSF CAREER Program Webinar
NSF hosted an informational webinar on the CAREER program May 15, 2018. See slides.
2016 NSF CAREER Program Webinar Resources
On Tuesday, March 15, 2016, CADRE hosted the 2016 NSF CAREER Program Informational Webinar. This webinar was led by NSF PO Karen King. The presenters–Michelle Cirillo, Melissa Luna, and Bill Zahner–are current CAREER awardees who give their perspectives on preparing a CAREER proposal and leading STEM Education projects as first-time PIs. View the slides.
2015 Webinar Recording: Perspectives from DRK-12 CAREER grant awardees 
In this webinar led by NSF PO Karen King, CAREER grant awardees Alicia Alonzo, Tina Grotzer, and Gloriana Gonzalez Rivera share their experiences as first-time PIs on both preparing their proposals and leading their projects. View the slides and recording.
Tips for Working with Graduate Students and Advisors
On January 18, 2017, DRK-12 CAREER awardees met virtually with a former CAREER awardee to discuss working with graduate students and advisors. These notes capture the highlights from their conversation and offer tips for other NSF grantees.
Active CAREER Awards
Search NSF for active CAREER awards across NSF programs.
---
2016 Videos Featuring DRK-12 CAREER Projects
Featured in the 2016 NSF STEM For All Video Showcase, these 3-minute videos are an engaging way to learn about early childhood work funded by the National Science Foundation's DRK-12 Program.

Virtual Poster Hall 
View a collection of project posters that feature DRK-12 CAREER projects, presented at the 2014, 2016, and 2018 DRK-12 PI Meetings.
Active DRK-12 CAREER Awards
Search NSF for active CAREER awards in the DRK-12 program.
---
MENTORING
Visit our Mentoring Spotlight for resources related to mentoring strategies and plans.

---
CAREER Awardees' group page access.