The project utilizes wearable video technology to both study and support teacher noticing of children's thinking in elementary science classrooms in Appalachian school contexts. By examining teachers' noticing practice this research builds a theory of teacher knowledge surrounding this practice to be leveraged in the design of teacher learning.
Image: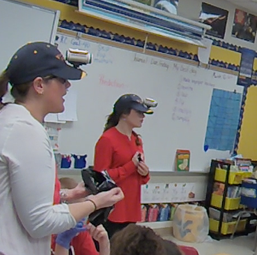 Target Audience:
Grade 5; Rural and Semi-rural; Low SES Communities
What Issue(s) in STEM Education is your Project Addressing?:
Children from "non-dominant communities" (Gutiérrez & Rogoff, 2003)—including Appalachian communities—are particularly affected by issues of equity and access to early science learning opportunities. Therefore, supporting elementary science teaching is key, as it can either open up or shut down opportunities for children to learn in science. An ultimate goal of this research is to impact science teaching in Appalachian communities in order to open up science learning opportunities for all children.
In this context, this research examines teachers' noticing of children's thinking in science and focuses on designing web-based teacher learning materials surrounding this teaching practice. It is grounded in constructivist and situated theories of children's learning—children draw on rich and varied cultural resources to form ideas about the natural world and these ideas form the basis for science learning. Thus, teachers' noticing of these rich and varied resources embedded in students' thinking should be central to the work of teaching science.
This project involves both interpretive participant observational research and design-based research methodologies with a goal of building theory of teacher knowledge and practice surrounding teachers' noticing that can be leveraged in the design of teacher learning materials and experiences—specific to an Appalachian context.
What are your Findings?:
The teachers participating in this project have deep West Virginia roots—all were raised in Appalachian communities much like the ones from which their students come. While data analysis is ongoing, what has become clear is that when asked to notice their students' thinking, these teachers draw on a vast knowledge base of the rich cultural resources their students bring to bear in science learning and this knowledge base seems to be unique and deeply connected to Appalachia. Although preliminary, this is quite interesting if the data shows that Appalachian teachers' noticing is unique to the Appalachian context.
Products:
The design of the web-based teacher noticing learning materials that are part of this project are in progress. These will be made publicly available in the future.